---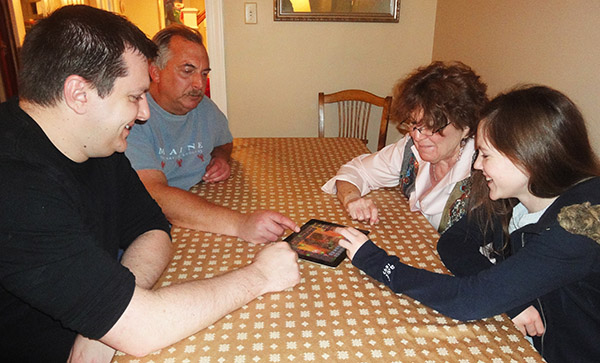 Four Generations having fun Together
and each benefiting in their own way
The emphasis is on "Together" in Counting Together. Designed by a professional team with experience in Psychology, Math, Early Childhood Education, and Youth Coaching, we have created a game that is Fun, Education, and emphasizes Team Play. As a Youth Coach for over 20 years, we fully understood the need for team participation. Counting Together allow up to 4 simultaneous players. Every player is involved. Every player is learning.
Counting Together was shown and played by numerous parents with their children during development and testing. Three comments were consistent and resonated to our development team:
"WOW! I don't know any other app that 4 players can play at the same time."

"Perfect for that 'Mommy Time' with my child"

"Please, may I get Counting Together today?"
"I don't know of any other apps where
my kids can play at the same time"
-Kate, Mother of Twins
From a Parent:
At last!  A game app that my child can play alone, with me, or with friends that is not only great fun, but is also a very engaging learning tool!
I was so excited to discover Counting Together, a wonderful colorful multi-leveled mobile app math game that mesmerizes my child with its dinosaur themed graphics and sound.  While she is busy trying to race the computer to total the objects on the screen, she is gaining skill in subitizing and addition!
In a fast paced demanding world, I know that families struggle to balance the urge to help their children achieve with the innate need for fun.
Many of us found the accessibility of the iPhone and iPad to be an answer to our prayers as far as filling in all that waiting time we face with our children while traveling, in restaurants, or waiting for appointments.  The children were busy and quiet, but there was no social interaction in an isolating single player game. And when the novelty faded, we began to wonder if maybe there were better games and activities that could transform this touch-screen "babysitter" into a cleverly disguised homework helper or tutor.
My child's teacher had been assigning homework in subitizing to strengthen her ability to recognize a number of objects on-sight, rather than counting them individually.  When a child can visualize the number of objects in a group quickly, her facility in all forms of mental arithmetic is faster.
We had been using dice and dominoes, but now we have an app that allows my child to do her homework even in the car or a restaurant! And to her, it is NOT a task, it is a game she requests!
Perhaps the best feature of all, (are you ready for this?), children can play with their friends and keep score to track their performance. With the improvement my child has shown in math performance, I know the teacher will be recommending Counting Together to everyone in the class. But don't tell the kids--they think it's a game!